Pilates is a form of exercise, aiming to improve core strength, flexibility, co-ordination and posture. Pilates was developed in the 1920s by a man called Joseph Pilates for rehabilitation and strengthening in ballet dancers. It has become very popular in the last 2 decades in the general population and is now a common part of physiotherapy rehabilitation. When taught by a qualified instructor, Pilates is a very safe and effective way to manage many injuries and chronic pain.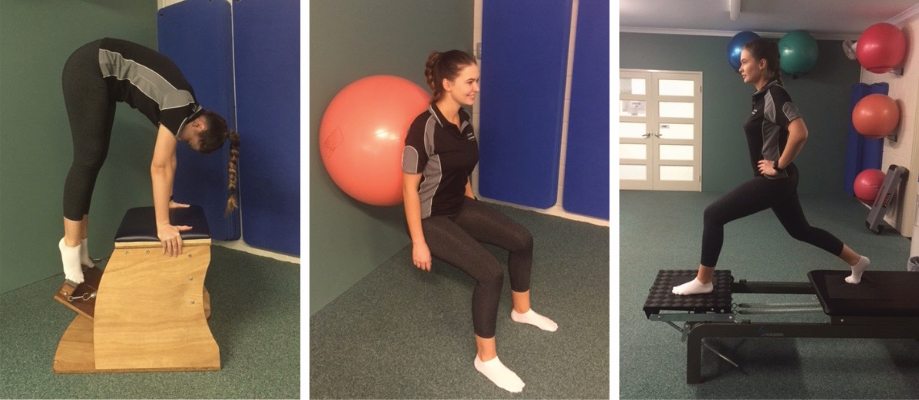 How is Clinical Pilates different to Pilates at the Gym?
Firstly, our Clinical Pilates classes are run by experienced physiotherapists, we therefore have in-depth knowledge and understanding of all injuries and conditions and will modify any exercises you have difficulty with! Our classes are much smaller, which means you'll get lots of special attention and we can ensure you are performing all exercises safely and effectively.
Everyone who attends Pilates at Glen Forrest Physio is required to undertake a pre-Pilates assessment with one of our physiotherapists to assess your general musculoskeletal health and to set realistic goals to work towards.
All are classes are eligible for rebate from your private health insurer if you have physiotherapy cover.

What is the difference between Studio and Mat Pilates?
Our studio classes use a variety of specialised Pilates equipment ideal for developing a program targeted at any areas of weakness or injury. Our classes are small, with a maximum of 3-4 clients to each physiotherapist. This means you'll get an individualised program working towards your goals.
As the name suggests, our Mat classes are held on mats and hold 12-14 clients per class. This is a great option for our injury free clients who want to participate in a well-supervised class working on general flexibility and strength.
Mat Pilates Term 1 Timetable
If you would like to book into the next term of Mat Pilates, please speak to our friendly staff 9298 9648.
Beth Antonio
Physiotherapist
Curtin University
Beth graduated with distinction from the School of Physiotherapy at Curtin University. Since graduating she has moved directly into private practice where she has developed a keen interest in treating neck pain, headaches, low back pain and sporting injuries. Beth has several years' experience working as a sports trainer at various sporting clubs around Perth, including for Swans Districts Football Club, Canning Tigers Football Club and the Costal Sharks Netball Club. This has driven her passion in utilising exercise based rehabilitation to assist in the recovery of sporting injuries.
Beth strives to use the best evidence based practice available to help people from all walks of life achieve their personal goals and improve their quality of life. Beth is currently taking Mat Pilates classes and is looking to further her Pilates training by undertaking an advanced Studio Pilates Course. In her spare time Beth enjoys playing hockey and spending time at the beach.